"Every time I write a line of code, I feel that I have created a piece of art. It is my way of self-expression," says Mahammad Ismayilov, a sophomore student of informatics at Kaunas University of Technology (KTU). Although his first year of studies was challenging due to pandemics, now Mahammad is enjoying student life to the full.
KTU student from Azerbaijan says that he chose the university by its rankings, and started to think about applying after looking through the subjects he would be studying here. However, he made the final decision after talking with a fellow countryman already studying at KTU.
Today, Mahammad is a KTU ambassador himself advising people about studying and living in Kaunas, Lithuania.
"As an ambassador, I answer the students' questions, write different blog posts about studies, life in Lithuania and other topics. Last semester, more than 30 students were consulting with me about applying to KTU and most of them have already got their acceptance letters," says Ismayilov.
Next to his studies and KTU ambassador activities, the Azerbaijani student is also actively involved in organising events in ESN KTU international students' organisation, is a human resources manager in a student club KTU VideoShot and is participating in virtually all the parts of student life.
"I am very good at time management," smiles Mahammad, "and these activities help me to get away from the computer and do something else. Besides, for all my extracurricular activities I get digital badges, which will be added to my portfolio when I graduate. This is an excellent way to show to my potential employer what skills I have."
Programming as a means to express one's creativity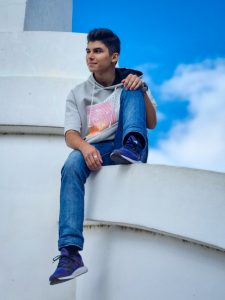 The young computer scientist says that he has been interested in programming since primary school. In the beginning, he was developing simple projects, was providing free IT support. Later, he started to volunteer as a science, technology and engineering teacher assistant and was teaching IT technologies to refugee children.
"For me, it is exciting and empowering to create something new from scratch. Working in programming languages is my way of being creative like for others it may be drawing. Every time I write a line of code, I feel that I have created a piece of art; this is my way of self-expression," says Ismayilov.
Although he admits that the first study year at the university was challenging due to COVID-19, this did not prevent the motivated student from getting excellent grades. This year, the studies and student life got much more exciting.
I don't see a big difference between my culture and Lithuanian. As in my country, people here are pleasant, friendly, and talkative.
"Now I highly enjoy my studies at KTU. Going to the classes and consulting with lecturers gives me more energy to study. Of course, it is still challenging, but when my classmates and I have some questions about our laboratory works, we meet in the library and try to find the solution together," says Mahammad.
Next semester, he plans to apply for the ECIU University Challenge to develop his problem-solving and teamwork skills. Also, he is preparing his CV for applying to the KTU WANTED programme, which will provide him with consultations on his career. In addition, he has already started studying some extra courses to become a web developer and plans to finish it this summer.
At the moment, Mahammad is looking for an internship in the Baltic states to get the experience of working in the office.
Lithuanians – positive, talkative and surprisingly productive
"If you like nature, you will fall in love with Kaunas from the first second – grass and trees are growing everywhere," says Mahammad, adding that one of the things that surprised him most in
Lithuania was how much people here love a healthy lifestyle and nature.
Another surprising thing for him was to find out that people here do not speak much Russian. However, it's not a problem for the Azerbaijani student, who has already found many Lithuanian friends.
"This year, I got to know many Lithuanians. Before, they seemed cold and distant, but in time my opinion changed. Now I communicate with very positive and funny guys who sometimes surprise me with their productivity. To be honest, except for religion, I don't see a big difference between my culture and Lithuanian. As in my country, people here are pleasant, friendly, and talkative," says KTU informatics student.
After midnight, according to Mahammad, Kaunas falls asleep – life here is much quieter than in his native Baku, which population is ten times larger. However, this doesn't mean that Kaunas is boring.
"Every week, in Kaunas you will see startups, companies, and universities organising various events. Besides, people here are massive basketball fans, and when there is a local Žalgiris team playing Lithuanians go to watch the game with all their families," says Mahammad.
Also, he reminds that this year Kaunas became the European Capital of Culture: "More than 40 festivals, 60 exhibitions, 250 performing arts events (more than 50 are premieres), and over 250 concerts are planned. So, as you can see – in Kaunas, you can always find activities for yourself."
European diploma opens many doors
An active user of social networks, Mahammad keeps recommending KTU to those seeking European education. Being sure that informatics studies at KTU will allow him to accomplish his goals, he shares this experience with his friends.
"Of course, I strongly recommend studies at Kaunas University of Technology to everyone, especially to those interested in computer science and computer engineering, because KTU gives you a lot of opportunities to prove yourself and find a decent job. KTU has contacts with different IT companies – such as Microsoft, Unity, Cisco, which are interested in finding talented students and providing internships," says an active student.
He is convinced that a European diploma opens many doors and is a big step towards becoming a highly qualified employee. And, adds Ismayilov, attending the universities programs such as UNITED, GUIDED, DISCOVERED helps improve public speaking, leadership, time management, and presentation skills.
"Come and join our international student family," invites Mahammad.
If you are interested in Kaunas University of Technology and want to hear first-hand impressions about life and studies here, visit the KTU Ambassador's page.
___
Admissions to the KTU Academic Year 2022/2023 are now open. Apply by the end of June and start studying in September 2022. Choose your future today.